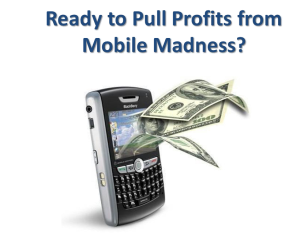 When to Get Started With Mobile Marketing
Consumer use of mobile devices, smartphones in particular, is set to pass PC usage by the year 2014. But as a business owner, you can't wait until then to get started meeting the demands of your mobile device users.
Worldwide Increase in Mobile Use
According to the website Mobithinking, 1/4th of the US population has begun using mobile devices exclusively over their laptop. Mobithinking goes on to conclude that well over 1 billion people worldwide will access the Internet using a smartphone, tablet, or some other device by the year 2015.
This means that regardless of what business you're in, that you will experience an increasing number of your customers that will want to interact with you from their mobile device.
So how does a business get started?
One of the first things that every company should do, before investing in a particular method or program, is to figure out what part of their base actually uses a mobile device. In other words, are the people that are actually visiting your site or location, using a mobile device to do business with you?
Get Help from a Local Marketing Consultant
You may want to get the help of a local marketing consultant in order to help you to get this information. You'll need to use your website's tracking system from your web traffic analytics program (Google analytics, etc.).
Your Website Analytics Program
An analytics program will tell you what devices your visitors are using in order to visit your website. You'll want to know this because it will help you to determine how to take steps to make your website ready (or optimize) for mobile users.
Start by Optimizing Your Site for Customers That Access Your Website Often
When you have limited resources, you may have to make your site mobile ready in stages. And you'll want to start by optimizing for those devices that your customers are using most often to access your site.
If you don't have tracking systems that measure how much traffic is coming to your site, then this is the time that you'll want to make sure that you have an analytics system in place. You'll need to use it to determine how much of your traffic is coming from mobile devices and how much is coming from personal computers.  All of this information will help you to make better marketing decisions.
Then Begin Designing Systems to Find Them
Once you've determined where most of your mobile users coming from online, you'll want to start designing promotional systems to reach them. When you are starting in mobile marketing, the only way to figure out which campaigns will be most successful is to run them, track them and test them.
As you get started, run small campaigns based on what your analytics program is telling you about the traffic coming to your site. If your business is dependent primarily on foot traffic, then you'll want to go through the same process of finding out where they found out about your company.
Use Demographic Information If You Have It
If you have demographic information about your customer base, it will be helpful in determining which method to use first. In other words it may not be helpful to start testing mobile marketing campaigns with QR codes if your customer demographic is older (since those that use them regularly tend to be younger). In that case the place to start, might be to develop an SMS or text message marketing campaign.
So to sum up,
1.) Identify your mobile users
2) Make sure your tracking systems are in place
3) Determine your demographics
4) Set up your tests
While these are certainly things that you can do yourself, the learning curve is fairly steep get them all done quickly and efficiently so that you can profit from them. The best solution is to work with a local independent marketing consultant to help you put various stages of these things in place for you.
We are equipped to do everything that you need to put a solid mobile marketing plan in place. Call us today at 770-572-4002, so that we can help you to get started.